Beaches at Hopkins
When we talk about Hopkins village Belize there are many points that needs to discussed with our visitors. This village is famous for fishing and Garifuna. It is situated on beautiful coast and it has its own natural beauty around the village and full of adventure. The best place to visit with a perfect weather conditions.
You can stay any where in the village you will feel comfortable in this village and you will be served very well in this town. The main thing is that is yet to be discovered by the adventurous tourists. so do not wait for upcoming vocations just pack your things and be ready for the perfect tour in the Belize. Take out time and enjoy this vocation here in the Hopkins Belize.
Recently the Hopkins authorities named this village as the best place for visitors and tourist. We locals of Belize will always welcome our tourists. We never disappoint our cool and amazing tourists in the village.

Hopkins people
There are many interesting and amazing stories about the people of Hopkins Belize is that they are Garifuna. These are belonging to Caribbean and West African. They were shipwrecked or escaped from the chain of slavery in their times. Now you can find them around world like USA and Canada. They are more then half million around the world. They all are know as Garifuna. They can be easily found in the US and Canada.
Unique Culture
If you are interested in to find out that what Garifuna look like and what was their culture then for sure Hopkins Belize is the best place for you to discover their culture and way of life in the Belize.
So as we know that this is all about the Garifuna's culture then drumming is the main part of their culture they love the sound of drumming and its the part of their culture. When ever you find the chance to visit or planed to come here to Belize for sure you will find the and hear the sound of the Garifuna drumming around the village. It is an old African cultural practice. It shows an association with Garifuna African culture. Drumming is counted as dominant part of their culture. You will see the dance, singing and music in Belize which shows their strong relation with their culture. You will get this easily without any language. There are many learning points and you can learn many more about the Garifuna culture in Belize. When it comes to the food of Belize you will find Old Garifuna African taste in the food. You can learn more about Garifuna culture and food just by visiting the Hopkins Belize.
Hopkins Belize's Beaches
What makes Belize more interesting and more attractive? is the Hopkins Belize beaches that make this place more attractive to visit. These are the best beaches around Hopkins, especially in the Belize village. You would love to see it when it comes to beaches in Belize village. These are the top-rated beaches in the Hopkins by tourists. If you want to know about something or a place you must check the reviews by the tourist or visitors. Similarly, these beaches are the top-rated beaches in the area. The water of the coast is very clear and pure when you dive into the water you will easily see everything around you.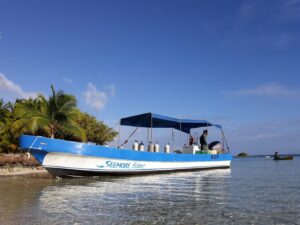 Just wear glasses and enjoy the blue water with beautiful small creatures around you in the water. These are the most enjoyable things in Belize. If you want to stay on the beach sand. You can stay safe and sound without any issues. These beaches are for the public you can stay and enjoy the sun on the sand. You can find a perfect spot and take a nap under the beautiful sun. These all are for free and you will not be charged by anyone you can enjoy these moments for free. We all know that we all want to visit a place for enjoyment and relax for some time. Similarly, Belize is the place to visit and relax your self for a moment. There are many visiting points to stay and enjoy. Especially for people who love to go on an adventure. There are many adventurous places around the village. If you want to dive into the water or want to fall from long-distance into the water, then you can climb up on the rocks, and then you can dive into the water. As I discussed and mentioned, above if you want to stay with the sun on the beach then you can stay without any problem. And it's all for free you will not have to pay for that.
Most of us don't go for a guide on tour. In some places, you will find the tour guides for free and in some places, you have to pay the guide fee. The same is the case when you visit or plan to visit an area, then go first to research that area and collect all the information about that area. Because then you come to know about that village or area. After all, you will not face any problem, and in hiring guides and renting a room or hotel for yourself or for others.
Taking sunbath is an amazing experience in Belize. Mostly you can not find a sunny day around the country, But when you plan to come to Belize then check the weather forecast for sure. Visiting such a beautiful area full of Garifuna culture. You must know a little bit about this area. In Belize, you can find animals as well and if you are trying for some perfect adventure then there are adventure places. Including swimming, diving, and rock climbing. If you are an animal lover then you can find animals as well on the edges of the river. You can see this beautiful view on a boat tour. You will have to fee a few bucks to enjoy your boat trip.
There are many more points to discuss but it's enough in today's article. If you have any questions you can post in the comment below or you can contact us through contacting us page above.